Principal's Desk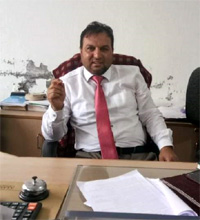 Principal

Aiming at creating a vast amount of technical manpower in our country, among others, this polytechnic college was established MHRD in the year 2012 under "Submission of Polytechnic Scheme".
Polytechnics are meant to provide skills after class X and the duration of diploma programmes is 3 years. The pass-outs of Diploma level Institutions in Engineering & Technology play an important role in managing shop floor and other operations and as a middle level link between technicians and engineers. Presently, this institution is offering diploma programme in Architecture Assistantship and Electrical Engineering.
Hitherto we are functioning in a rented accommodation. Hopefully in a couple of months, we are going to shift in our own campus having ample space for all the activities which will open up better opportunity for learning and personality development.
It shall be my endeavour to encourage enterprising skills of our students by providing professional environment so as to align them with Make in India, Skill India, Digital India and Startup India initiatives at the national level.
Thanks for visiting our website.
Regards,
Principal